The Gwozdziec Synagogue in Sanok, Poland
Tuesday, August 16th, 2011 @ 8:11 pm
Yup, I went to Poland.  To help build a timber frame synagogue.  A replica of the 1731 place of worship.  It was pretty awesome.
The Timber Framer's Guild was commissioned to build this structure, and Handshouse Studio organized a student volunteer opportunity to help with its construction.  My group flew into Warsaw, where we stayed for about three days, and then traveled to Sanok, where we were for about twelve, to build.  We then went to Krakow for about two days and headed home.  There are plenty of pictures and memories from the trip, and I will do my best to summarize them here.
Starting in Warsaw, we toured the city on foot, including the recreated Old Town, where we saw lots of cool buildings and historically important areas, and plenty of memorials.  Warsaw was largely destroyed during WWII, so it was pretty bizarre to go see one of the world's ancient cities, only to find its architecture dating from the 50s onward.  We were shown a photograph of post-WWII Warsaw at one point and all that remained was the streets, the square blocks they circled, and one church standing in the midst of it all.  No rubble, just empty plots of land.  Everything was destroyed.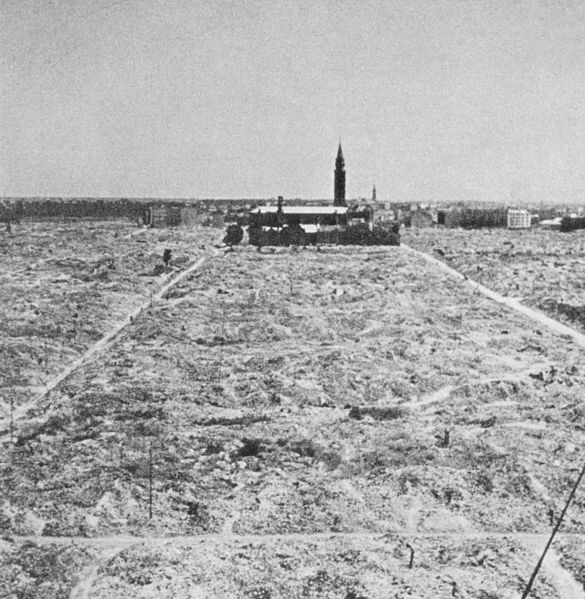 Of course, being an old culture, there was plenty of fascinating craftsmanship as well.  At one point we toured the Jewish Cemetery in Warsaw and saw tons of really awesome stone and metal work, from various periods and in plenty of different styles.  Some of it had even been damaged by fighting during the Polish Uprising.
We even got to see the Warsaw Uprising Museum (literal English translation is the Warsaw Rising Museum), all about the 1944 citizen's revolt against Nazi occupation.  It was fascinating strictly as a museum, the exhibits and the manner in which things were displayed playing large parts in how the museum was experienced.  There was a lot of effort put into showing artifacts from the event, but also giving the place a mood and a sense of foreboding and doom that was really effective; I remember being most impressed and excited by the way they had recreated some of the authentic bulletin boards or pieces of buildings from the era.
We also got to tour a sculpture/artist residency park in the countryside on our way to Sanok; I saw some of my favorite work from the whole trip there.  As well as some fascinating antique household items, and really cool modern sculpture work in their on-site gallery space.
And then it was on to the worksite.  We arrived in the evening on a Friday, and were put straight to work on Saturday, most of us assigned to axe work, hewing being the main task for our stretch of time on the project.

In retrospect, it's pretty impressive – and slightly intimidating – that a lot of the people on the project from the TFG crew do this type of stuff on a regular basis.  It's very physical, and very hard.  But of course, hard labor can be pretty rewarding, and it was great to be working hard out in the sun for a good week or two.  Definitely a break from anything I'd call normal.
We took a day or two off to look at some old synagogues in the area – or at least what was left of them.  It was kind of interesting.  Most of us were battling soreness from the first few work days, and some of the ruins were so ruined – or had since been converted – it was hard to picture what had once been there.  But hey, while in Poland, why not tour everything you can?
And of course, some of these random tours had unexpected surprises of awesomeness, like this table and bench setup one museum had.  I don't know if it was on display or for actual use, but it was one of the coolest rough wood joinery pieces I've ever seen.  I took photos of as much of it as I could, trying to salvage some kind of learning from it.  We'll see in the year to come if it pays off any.
We did get to see one old synagogue that had a lot of very old Jewish artifacts inside it, that mostly had been found on the premises by the proprietor of the place.  And, at last, the space of worship was thoroughly amazing to look at.
Back on the work site, two men from the Czech Republic came to demonstrate their methods of hewing and cutting joinery, using their typical replica medieval axes.  They were also geniuses, which they demonstrated when they showed us their work, which included a very simple, working timber-framed pile driver built "to test a theory" and a replacement for a cathedral tower top in Prague.  (Sorry, couldn't find any links).
The work site was in a place called the Skansen, a historical building park of sorts, an open-air museum where historical buildings were all quite literally collected (found elsewhere and moved there) to create an historical town from various time periods and regions of the country.  Seeing some of the old life and building styles was fascinating, and I couldn't help but snap shots of as much of the building techniques and unique ideas (toilet out of a single tree stump, anybody?) as I could.

Of course, what would a trip like this be like without some good fun?  To say goodbye to each of the student groups, there were barbecue parties at the camp site of the timber framers, including kielbasa, pierogies, plenty of cabbage and potato dishes, and plenty of beer.  And axe-throwing.  That was definitely a high point.

We toured some synagogues on our way to Krakow, including the Binarowa and Lipnica Murowana, which were pretty interesting.  The city itself was magnificent, having stayed intact during and after the war.  We saw Wawel Castle, the old city square, and even parts of the old city wall that are still up there, with ramparts and catwalks and the whole bit.  Really takes you back in time for a few moments while you re-adjust to the fact that life really was like that once.
Also in Krakow, we came across a bunch of art while we were wandering around.  There was a projection by Jenny Holzer, and a giant fingerprint piece by Aleksander Janicki, both parts of the Milosz Liberated project.  Walking back to the hotel after dinner that first night, we saw the dragon of Krakow breathe fire in the night.
On our last day in Krakow, we toured two more places.  In the morning, we breakfasted and bussed straight to Auschwitz.  The tour was very thorough and very informative.  They very clearly have had practice giving it, pausing at all the right moments to add emphasis, and letting some of the rooms on display speak for themselves, which they did in volumes and screams.  It was very intense.  I probably wouldn't go again.  But I would definitely recommend it to anyone who's never been.  I think it's an important thing to see.  I didn't want to take any pictures.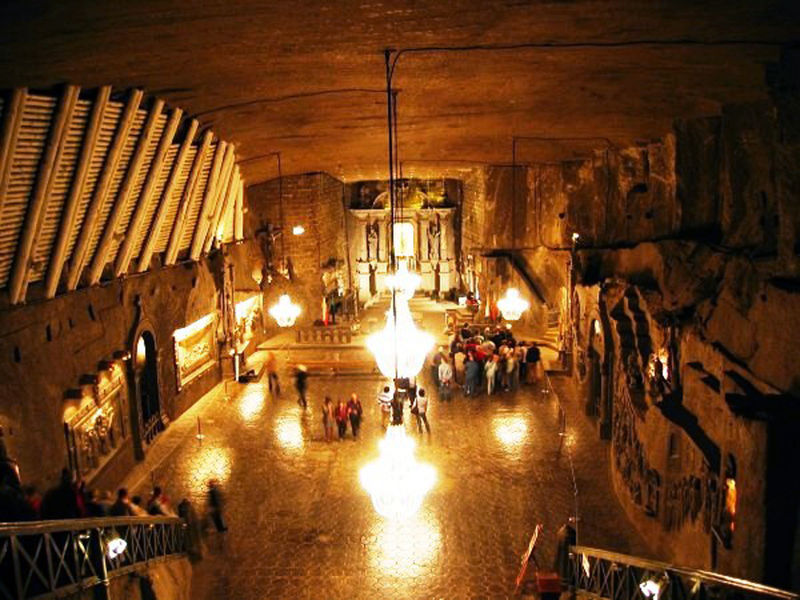 The second place we visited was completely counter to that: the salt mines outside Krakow.  At one point in history it was the country's most valuable resource, and they are obviously very proud of it.  What we saw had been converted into a purely sight-seeing area, but that was only less than .1% of the entire mine, we were told.  And what we saw was pretty extensive.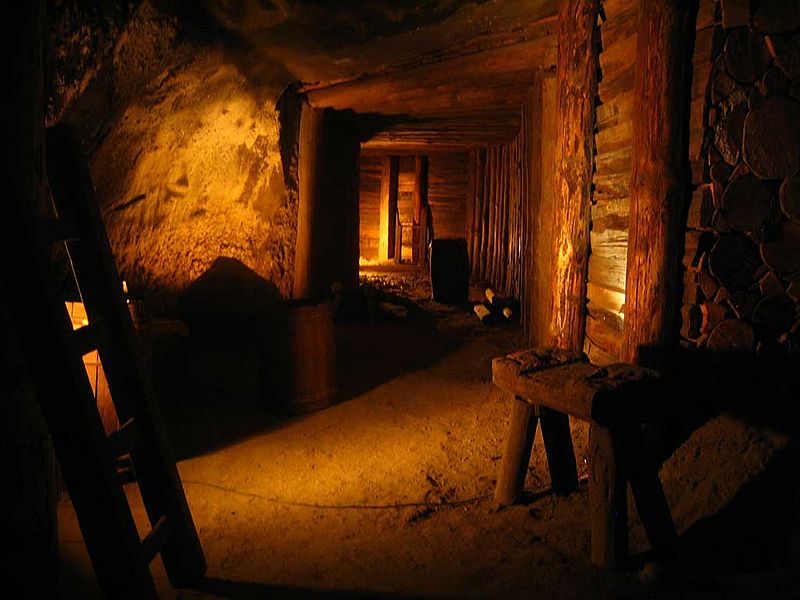 This was literally like delving into the depths of some dwarven mine fortress, discovering their tools and contraptions and eventually the most impressive and awe-inspiring underground, salt-carved cathedral I've ever seen (because I've totally seen a lot).  It opened up into dual rock salt staircases flanking a giant seating hall that ended in a great platform with an altar and candles, and the entire room was walled with carvings of passages from the bible.  The miners carved them, and their names are on them.  To top it off, when we came in, there was a school choir singing hymns down in front of the altar, making the entire experience even more incredible.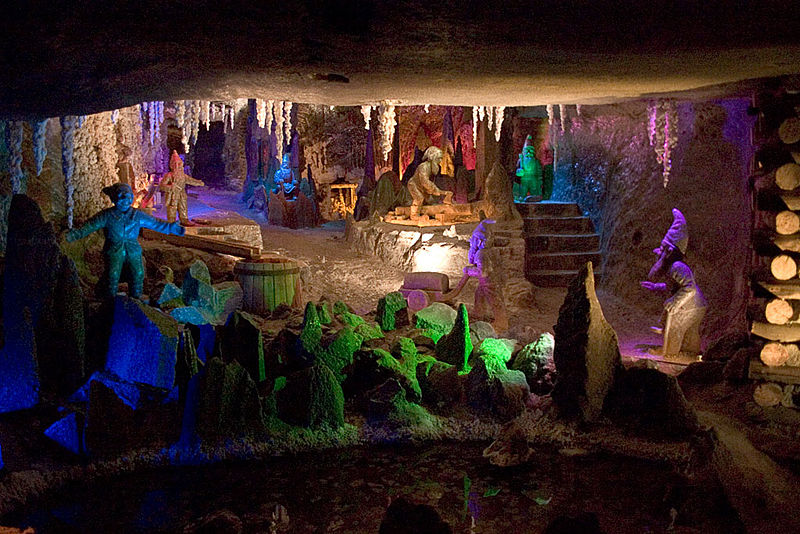 I didn't take any pictures because they were going to charge us, but some trip-mates did, and I hope to snag a few some day.  If anything were to counter the despair and hurt of the morning at Auschwitz, it would be my imagination running wild with underground craft halls, elves and dwarves at work, and a magical place of worship known only to the depth's inhabitants.
We returned to Krakow for dinner that night in the old Jewish part of town, and got to see some live Kletzmer music and eat very good food, one more time. :)
Alas, all trips come to an end.  Injuries were sustained (from the work, not axe throwing) and I returned home with a good scar on my calf and slight nerve damage to a finger joint.  But of course, the trip was fantastic, and without a doubt worth every minute.  Highly recommended. :)