More bending & Mosaic veneers
Monday, March 3rd, 2014 @ 4:09 am
Well, the steambox at school was too bulky for my taste, and too short actually for the lengths I want to bend, so I went out and got some PVC pipe, some plastic tubing, an end cap and some fittings, made a quick 2×3 spine with legs, and popped it all together to make my own steam box.  The end cap is PVC-glued in place, I wrapped the whole thing in fiberglass insulation that's wrapped in packing tape.  A brass fitting is set into the middle of the tube (I'd put it near the front next time, so the steam is drafted through the whole pipe, though it gets real hot and steamy real quick with the school's wallpaper steamers, so it's not been an issue so far).  The little tubing at the back lets water drain into a container as it re-liquifies inside the tube, and the front is capped with a rubber gasket on a plastic cap with a threaded rod and wing nut.  It's super simple, all under $50 (without the steamer), and works great.  You could make plenty of steam with a metal kettle on a burner, just cap it and vent the steam into a hose that goes into your pipe like you would any other steam source.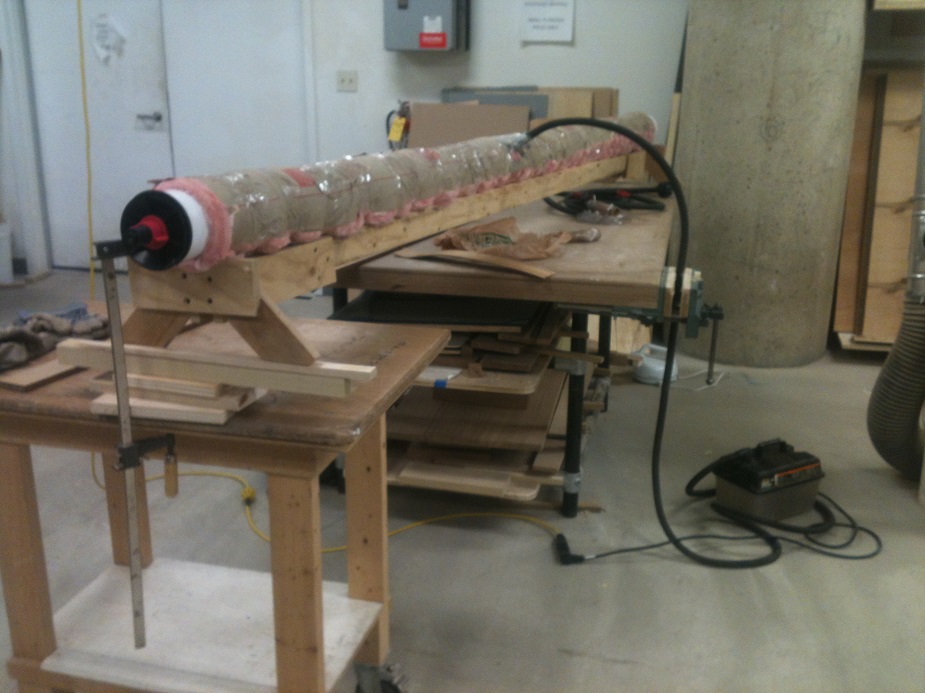 For a long time steam bending seemed somewhat mystical to me, but it's really incredibly simple.  Make steam, direct steam, leave wood in it for a while, and voila, there's flexible wood read to be bent (hopefully without incident).  I've gotta soak my sticks first and then steam em, but I'm going to look for some green or at least air-dried wood before trying that tight triangle-bend again.  For now, it's more experiments!
Next up, and almost completed now, is a mosaic veneered tool chest I'm building for underneath the wing of the studio workbench.  I've collected scrap woods for a while now, and some are just too small to keep but just too cool to throw away, so I'd embraced the idea of making veneers a while ago, just never gotten to it.  Now, I sawed up all those scraps, vaccuum pressed them onto some pieces of plywood, and biscuited the plywood together into a box.  I'm working on the interior drawers and shelving and the exterior framing and eventual front door.  It's gonna be exciting, I can't wait to show it off!