Stool
Monday, January 6th, 2014 @ 11:53 pm
Always a fan of experimenting and playing, I took on this project (and this class) as a last-minute thing, and it became a pivotal part of my semester.  Funiture Design, taught by Peter Thibault and Judith Hanson, ran alongside the new Furniture Certificate program, a collaboration with the North Bennett Street School, the MassArt portion of which is taught by Mitch Ryerson.  I got advice from at least the three of them over the course of the semester, as well as other students and woodshop faculty.  You could say I made the shop my home this semester, officially.

It began with a drawing.  I doodled in my sketchbook before class and settled on a design I liked, and drew up the full-scale leg on paper.  Problem was I'd drawn it with a hard edge facing outward and toward myself, like drawing a cube from a 45 degree angle.  So I had to do some extreme mental trickery or find a way to mock this shape up so I could spin it around.  I chose the latter.  Also enrolled in a CAD class and experimenting with Blender 3D and Rhino, I was able to make this 3D leg pretty quick and rotate it around for the views I wanted.  I printed out front and side views and used those as the templates to bandsaw out later.  Not too shabby.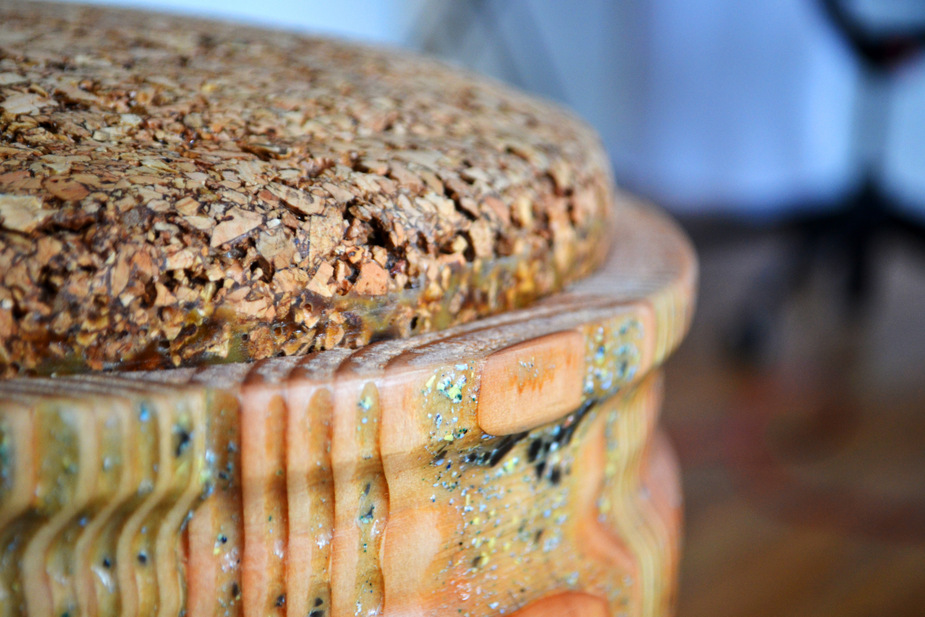 Oh, also a large part of this project hinged on the possibility of casting cork.  I didn't want to spend the cash on a block of it, and my parents had collected wine corks over the past 12-15 years, so I had a garbage bag packed full of them.  I thought I'd just drop them in a blender and much 'em up with some glue and voila.  And that's pretty much what I did.  I got the bowl part turned and filled with colored epoxy and sanded and finished (another series of experiments), made a circle template for a router and hollowed out about 1/2″ into the top of the bowl.  I used the same template for my cork form, and with minimal sanding after the final cast had dried (about 3-4 days in front of a heater, the cork just sucks up wood glue).  I even used a router to round over the top edge of the patty and cut in to the bottom edge a bit for a better fit.  I sanding it down to super-smooth and oiled both the bowl and the patty and epoxied it in with a thick mix the night before my review.  So casting ground up corks with wood glue is A-OK.

I made a plywood spline from mahogany scraps leftover from the process and calculated the shape as best I could.  Not quite perfect, as you can see, but the whole thing was an experiment, right?  I just filled it in with some epoxy.  Thickening it with wood dust instead of the purple fairing filler we had would've been better, but hey, lesson learned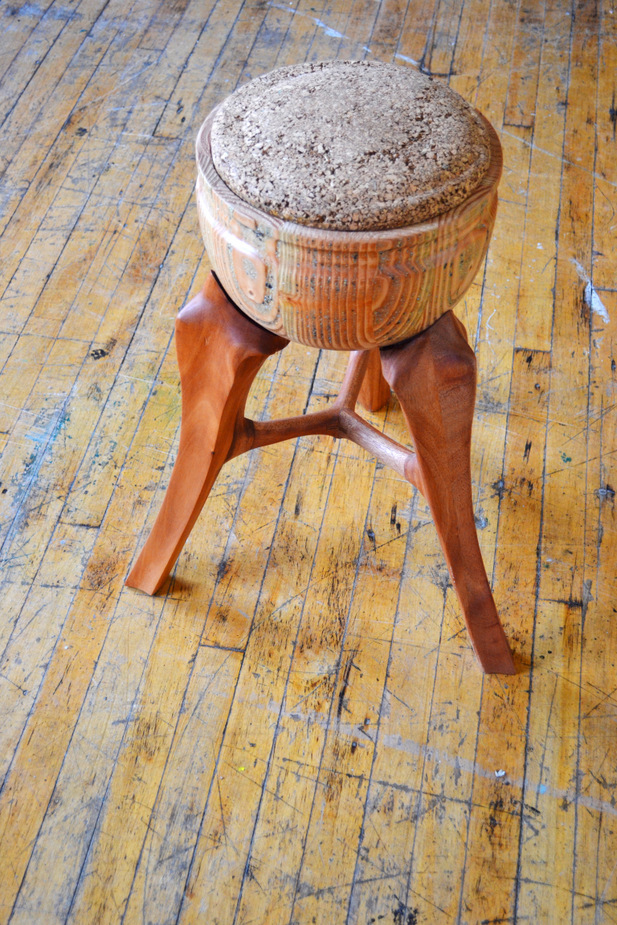 Responses are currently closed, but you can
trackback
from your own site.
How did you ever get the grain to show – stand out – on the bowl part of your sculpture? It is beautiful.
If You had told me you were using corks! I could have contributed some! Collecting them must be a family trait! HA!
Your work is beautiful, Blake. Really professional. I see a big change from your first efforts!

runeshai Says:

Thanks, Gramma. I wire-brushed the bowl while it was on the lathe, which tore out a bunch of the softer wood (summer growth in softwoods like pine, fir, spruce, had much more open pores, looser structure, so it's softer and breaks away with a wire brush or sandblasting). Then I covered the whole thing in epoxy with colorant and fake rock bits. Then I sanded it all back down on the lathe and oiled it a bunch. Came out pretty good I think. I'd use more colorant next time, maybe a tighter grain structure so there are streaks of turquoise instead of muddled areas of bluish hue, but it was a fun experiment.