Fir Desk for a Tiny Space
Monday, July 17th, 2017 @ 11:48 pm
I moved into a tiny room for a bit and needed to make great use of space, so I built this short, shallow, long desk with tons of drawers.  I worked out some of my difficulty/baggage in getting drawers to work doing this.  It was good.  Even got some file bars in the lower ones.  They'd be better with full-extension slides.  Anyway, using almost all free stuff, it worked out pretty great.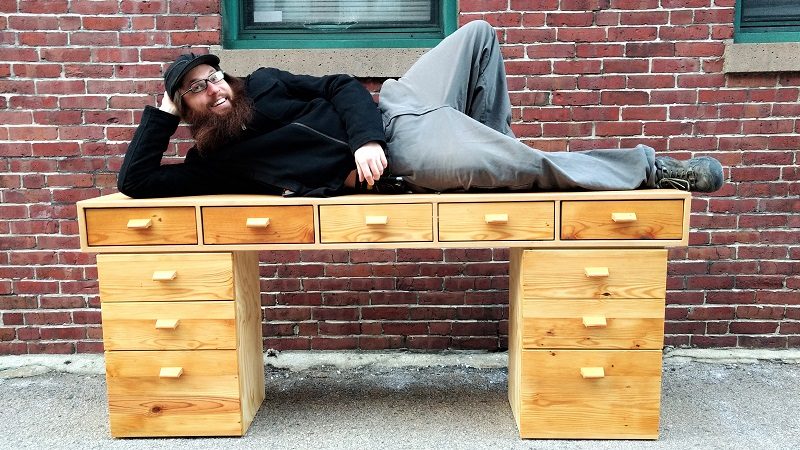 Reclaimed fir plywood and edge banding from DDW, I made some little edge clamps by stretching bike tube strips over cheap spring clamps.  The top drawers are just boxes all the same size, the bottoms of which are the size of the opening, larger than the drawer box, so they slide nicely, fit snugly, and the fronts lined up make all the difference.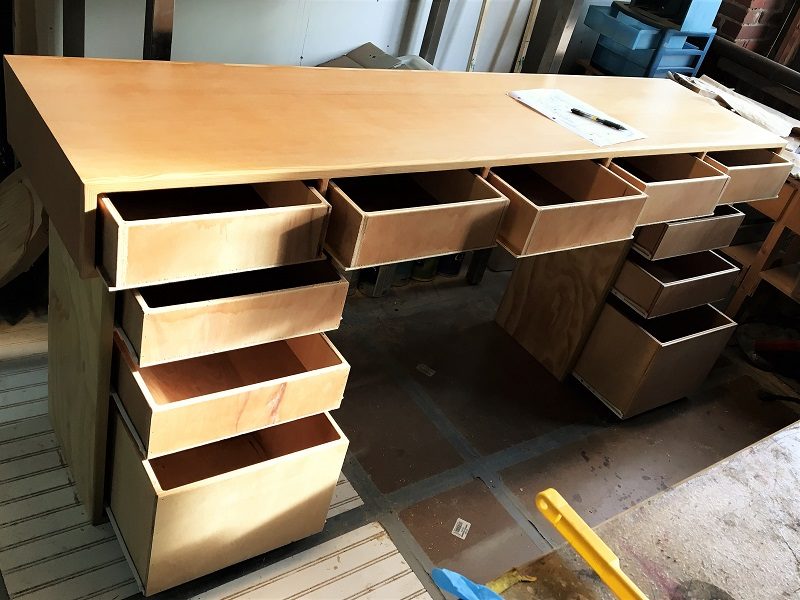 All of the fronts are actually southern yellow pine that I salvaged from an old workplace as they were taking apart some old storage areas and tossing a bunch of old materials.  It was decent 1″ thick stuff, and I can't say no to good wood.  Or at least then I couldn't.  I'm trying to be a little more selective.  Anyway they came out real nice, although some pieces changed color much differently than others when finished, even from the same boards.  No idea why.  The grain lines up all along the top drawers, and down each tower below.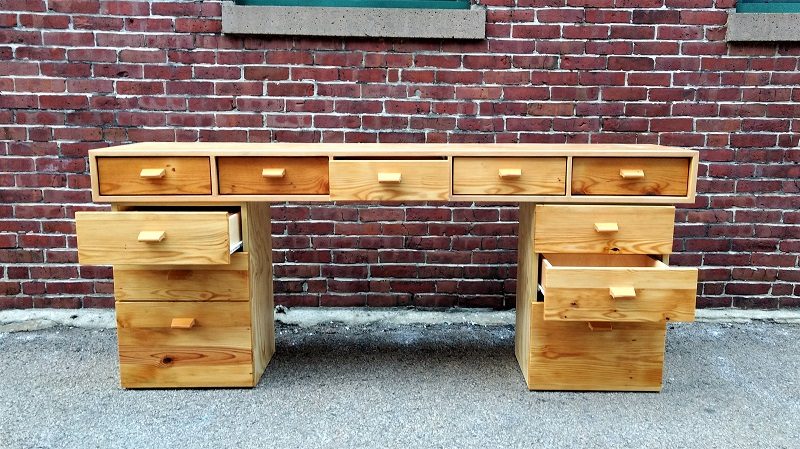 The handles were fun to make.  I've taken to sketching on the end of a long piece the rough profile I want, and using tablesaw cuts and router bits to approximate it, then cutting the edge that attaches to the drawer front, and shaping the rest of the way by hand.  I made a drilling template for these, drilled holes through the drawer fronts into the boxes, then used a spray-activated CA glue to attach the handles to the fronts quickly, eyeballing the center of the drawer, then drilled through the box into the handle, and screwed it in for good.  This worked pretty great and was very quick, definitely a technique I'd use again.