High Meadow Farms Timberframe
Tuesday, December 5th, 2017 @ 3:51 pm
This past weekend I had the awesome opportunity of heading up to Freedom, NH, to help out in the cutting of a timberframe for a new contemplative study center at High Meadow Farms.  Our hosts, Charlie and Holly, were so generous and warm, and the team that went up was a blast to work with.  We got an immense amount of work done, and I was encouraged to remember some past experiences I've had with timberframing, co-teaching, and community building and bonding experiences.  And it sparked a little somethin' in me.  I'm eagerly looking for the next thing along those lines.  Hopefully I'll have more like that to come soon.
When we arrived, we learned that most of the frame had yet to be cut, but nobody seemed to dilly-dally or to hang around.  We all set right to work and before the first day was done, we'd finished a bunch of rafters, and most of the work on the two 16′ long plates.  Best of all, there were some fun tools to try out, from this century the past, and each did their jobs well.  It was a kick to watch the variety of activities just marching through the task list, by both the newcomers and experienced folks alike.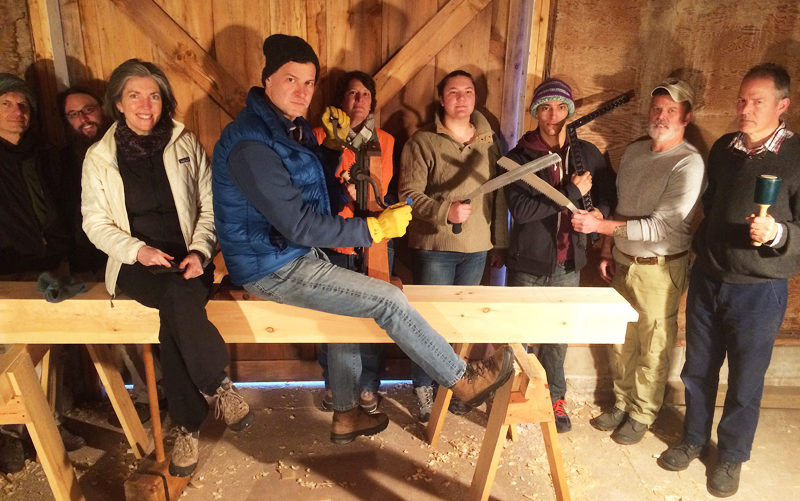 I wasn't too sure what I'd be getting into when I said yes to the invite from Roy to come help for a weekend, but I could not be more glad that I did.  High Meadow Farms treated me to a group of close knit friends and family, some great fun timberframing, for which I always melt, and to some really warm and welcoming people.  As we stayed up late that first night hearing war stories from abroad and close to home, and in the warm old living room, with the fire going, watching a projection of Buckaroo Banzai and shouting out all the names of all the actors those filmmakers managed to stuff into that staple-80's-joyride of a movie, I felt a warmth of numerous kinds, seeping into my bones, after a long days work out in the cold, and a while in the world trying to make some little things work together to make a life.  Something that's easy to forget when scratching out some sort of life in the city is that calmness can be found, that openness can be easy, and that friends are usually ready for you to open up to them.  Finding the right state to open up is the harder part for me.  But this place pulled the right strings, and it was a sad sight to watch disappear in the rear window as we left on Sunday evening.
If you have the chance to go, I wouldn't hesitate in the least.  For any reason.  Just the mist in the morning and the lone old barn buildings in the sunset were enough to say that to me.  And sometimes home is just where you happen to find yourself one day.  But it's somewhere.  And it's find-able.  And that's good enough for now.