Fashion Show Stages
Sunday, April 21st, 2019 @ 3:44 pm
Every so often, I have the honor of being able to work with Hook & Loop studio on projects ranging from custom solid wood office furniture through MDF and plywood plinths and casework for the various museums in the Boston area. This time was no different, we had to make four modular triangular stages with triangular frames making up the backdrops, paint everything fuchsia and sheath everything in this iridescent plexiglass. It was quite the project, and we had about two weeks to do it.

Having just aqcuired a new sliding tablesaw, the shop was primed for this type of project. With so many long, angled, and often also bevel cuts on so much pricey plexi, it was essential to deal with sheets in a nice and smooth, consistent and reliable way.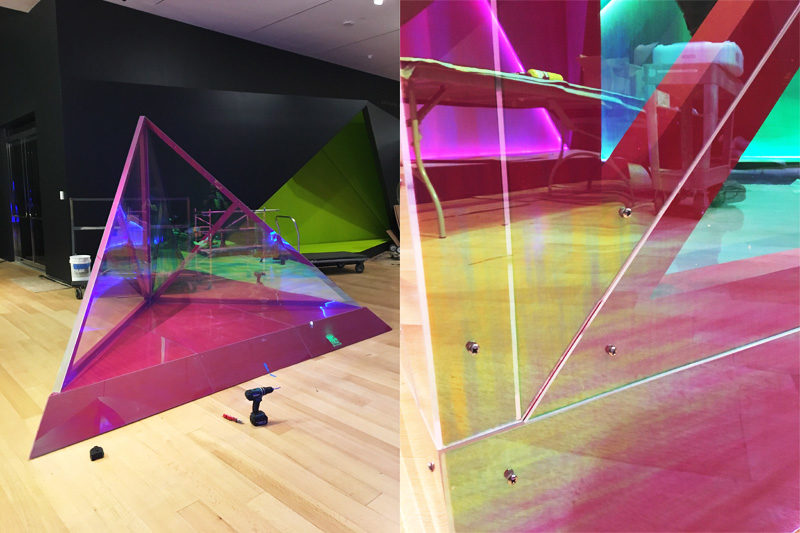 And we were able to get some really nice results, mitering all of the fronts, and all of the plexi that wraps around the sharp pointy front corners of each plinth is mitered and glued. All in all, the process was fairly smooth, neat, clean, and accurate. Very satisfying.
After about two weeks of fabrication, we took them to the museum and set them all up in a row.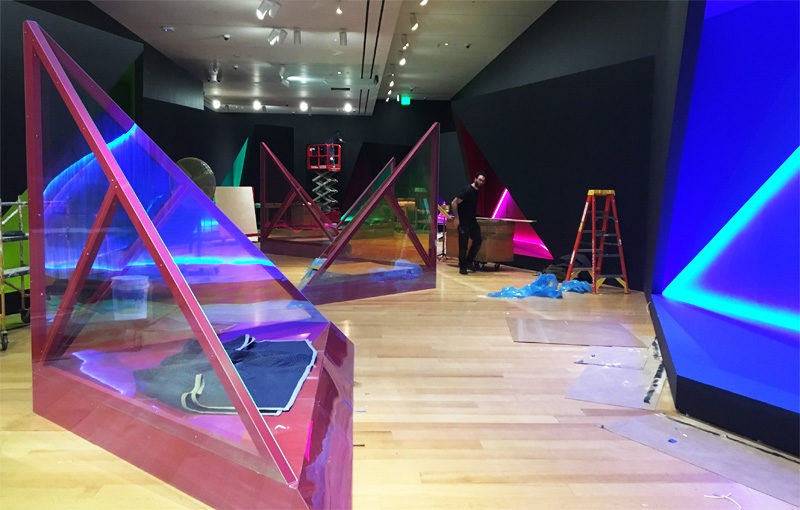 Install went extremely well, we cut out early and got most of the things together in one day! Planning ahead goes so far in terms of getting through the install smoothly and quickly. And in my opinion, nothing is better. I'm more of a shop guy myself, I like having the tools at my fingertips and a familiar environment to generate all kinds of stuff. But when you work hard and careful enough, the installs can be fun too.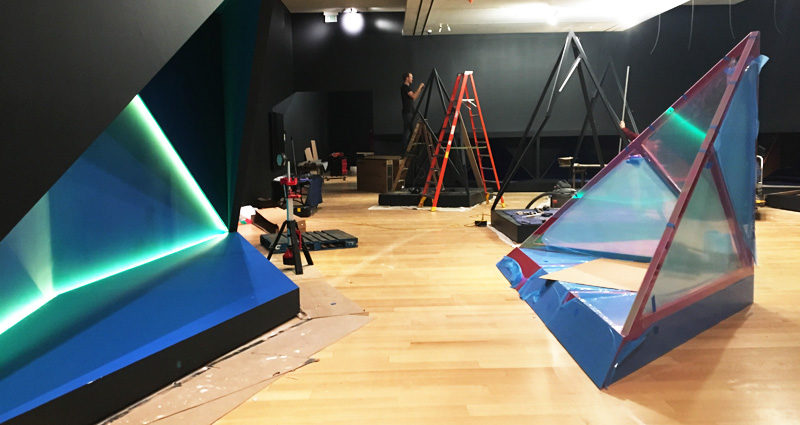 And this was no exception. We even got to hang out with the team from Doriss Design Workshoppe, the cabinetmaker I used to work for a few years back. The reunion was great, and as always it was wild to see what they'd come up with. I thought our compound angles were tricky, but looking at their stuff made my head start swirling!
As always, it's a pleasure to work with Jamie of Hook & Loop, and to get hands on something wacky like this for a client as serious about their displays at the Museum of Fine Arts, Boston.
Until next time.